***A PROGRAM FOR POTENTIAL AND NEW PRODUCT MAKERS AND STORE OWNERS***
Do you care about making a positive impact with your product(s)?
Do you have a concrete business idea, but aren't sure what to do before your launch? OR
Have you been in business for a bit and are not making as much money as you'd like…yet?
If you are looking to validate your idea before you start investing on it, this is for you. Let me teach you the simplest and best way to launch.
Let's talk about the "must do" steps to launch your product-based business with success, avoid mistakes, and save time, money and resources!
Let's also talk about the steps that are not necessary, can get you focusing on the wrong things and can be an unnecessary expense.
This program is for people who don't have time to make mistakes during launch and those ready to up-level their business lives.
A lot of product makers and store owners struggle because they are winging it and rushed to launch and let me tell you, bad decisions can get expensive when you have a product (whether those are losses, lost opportunities or money-wasting).
Launching a product without a strategy is like driving a car without knowing where you're going or having a map. Which is fine, if all you want is to use some gas and look at the scenery, but not cool if you have somewhere to go.
What is included in this program?
A 4 module course that covers the essential steps and potential pitfalls behind a launch
Here is what we'll cover:
Week 1: Your foundations: Why a successful business starts with solid foundations and how to start working on them.
Week 2: What do you (absolutely) need to work on before your launch
Week 3: What you don't need to launch, these are things that will bring you to
Week 4: A simple launch process for success
2 exclusive bonuses available to clients only:
A one hour+ training on how to test your product on a budget
A cheat sheet that summarizes what to spend money on to grow your business (and where to save money instead)

THIS IS NOT A "THEORY" OR MOTIVATION COURSE – No fluff guarantee
Hey, I care about making a difference in the environment and society, but this a no-fluff formula with the exact steps to take a product-based business from idea to reality to profitable business.
My program teaches you how to validate your business idea so you can launch, work smarter, be productive and have time to live your life and do things that light you up.
Working hard is not enough to grow a product-based business.
You need absolute clarity and confidence on what makes you different, you need to fully understand who you serve and why they'd buy from you.
As long as you keep "winging it" and you keep on taking the same actions over and over, you won't get the results you want.
Every month where you don't make the money that YOU KNOW you can make is a loss.
 
This is what others had to say about working with me: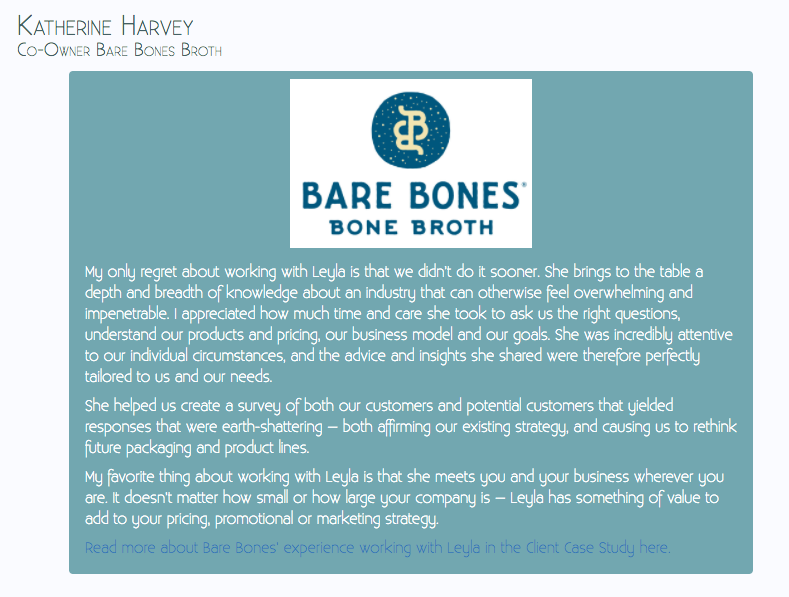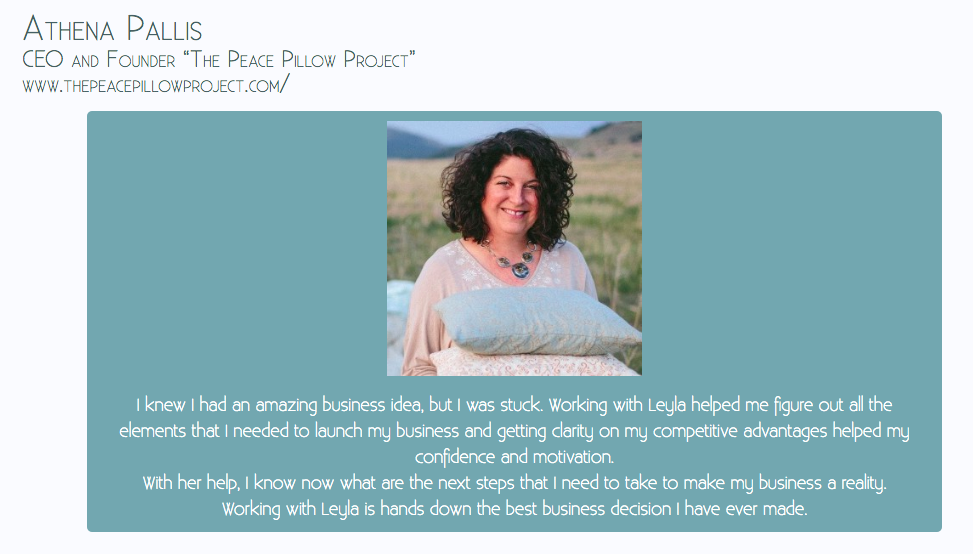 If you've been on the fence, this is the ideal time to check things out.
If you still have questions, please email me at me@leylarazeghi.com and I'll be happy to help.
See you inside!
To purpose and profit,
Leyla