Client Case Study: Bare Bones Broth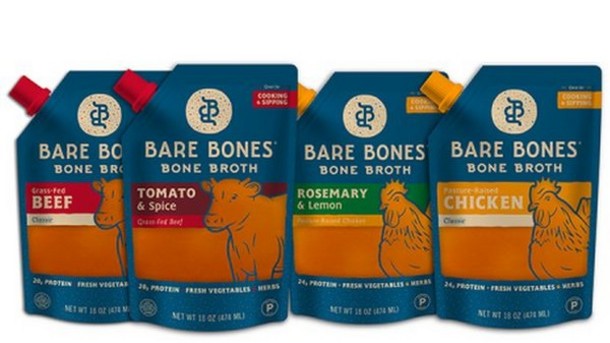 Bare Bones Broth is a family owned start-up based in Medford, Oregon that sells high-quality bone broth. Bone broth is a superfood that supports the immune system and reduces intestinal inflammation while being highly nutritious.
This is a company that started because of the founder's passion for good nutrition as a way to improve quality of life, after seeing some of his family members be affected by their unhealthy lifestyle choices.
Bare Bones has a threefold positive purpose:
To help people get healthier with the benefits of high-quality bone broth.
Upcycling food waste (bones and "ugly" produce) while making sure that the animals are humanely treated.
Making a positive impact in their community by donating a portion of their proceeds to food banks throughout the U.S.
It's because of their firm commitment to positive purpose and the immense opportunity of growth of a high-quality product in this new category, bone broth, that they were a perfect fit for Leyla Razeghi's business programs for business strategy.
Leyla Razeghi is a Product Strategist that works with purpose-driven product-makers and store owners. Her clients offer products that are a better option than what is out there right now: healthier, greener, ethically sourced, etc. She helps her clients grow their business, build the lifestyle of their dreams and leave a legacy by developing a strategic plan for growth that is based on the company's purpose and values. In her work, she helps her clients get crystal clear when it comes to their business foundations: business model, growth plan, ideal clients and financial model; to then work on a marketing plan specific for their product, their target market, and the current retail environment.
When Bare Bones started working with Leyla, they were already a successful product-based business with wide distribution and investment. They reached out to her in order to build a plan that would help them grow faster and more sustainably. Because Bare Bones already has strong foundations, Leyla recommended a one-on-one VIP program to fine tune their marketing strategy.
Leyla supported Bare Bones Broth in the following areas:
– Pricing and costs: Developing a pricing strategy. She started by diving deep into their costs and pricing per channel, and understanding their ideal margins so she could make specific recommendations for retail pricing.
– Target market research: Bare Bones already had a clear target market, so their work with Leyla focused on understanding how to dive deeper and gain more knowledge about their preferences and how they could serve them better and therefore increase sales. Together, they developed a survey that would be sent both to potential and current clients to understand their purchasing behavior better and to potentially make corrections in order to get laser-focused regarding the client's needs and wants.
– Promotional planning: Leyla trained Bare Bones executives on the basics of how promotions work in a retail environment: the process, potential costs, the ideal type of promotions and their frequency.
– Packaging: Leyla made specific packaging suggestions for the item to be more visible in shelf and increase sales, she helped them understand what the most important features of the item were and how to showcase them.
This is what Katherine from Bare Bones had to say about working with Leyla and the results the company got: My only regret about working with Leyla is that we didn't do it sooner. She brings to the table a depth and breadth of knowledge about an industry that can otherwise feel overwhelming and impenetrable. I appreciated how much time and care she took to ask us the right questions, understand our products and pricing, our business model and our goals. She was incredibly attentive to our individual circumstances, and the advice and insights she shared were therefore perfectly tailored to us and our needs.
She helped us create a survey of both our customers and potential customers that yielded responses that were earth-shattering – both affirming our existing strategy, and causing us to rethink future packaging and product lines.
My favorite thing about working with Leyla is that she meets you and your business wherever you are. It doesn't matter how small or how large your company is – Leyla has something of value to add to your pricing, promotional or marketing strategy.
You can apply for a complimentary strategy session with Leyla here.