Welcome! I'm Leyla Razeghi
Helping purpose-driven product-based businesses grow is my passion!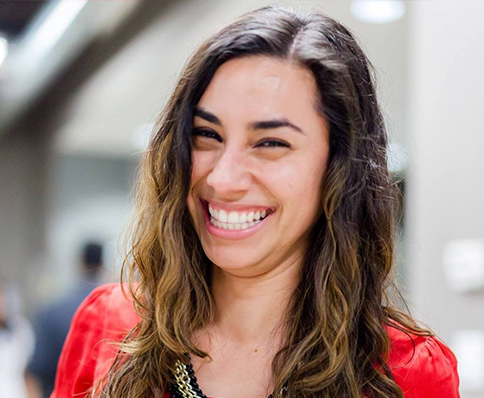 My story
My role models (that I try to emulate) are Marie Forleo, Gary Vaynerchuck and...Hermione Granger from Harry Potter. Yes, two are real and one is fictional (but amazing!)
I embrace change: From engineering student, to corporate intern, to corporate retail consultant, to entrepreneur
First big change:
In 2009 I moved from El Salvador to Canada after living in Latin America for 25 years. Yes, I just picked up and left...
Culture shock? Not really! I loved Canada's multiculturalism right away, and I worked hard to make a life for myself here.
Since then I have helped countless businesses understand their market and find their dream clients for any product or service that you can think of: from jam, to soap, to dog coats (yes, dog coats), to law firms, to clinics, to wine!
My other main area of expertise is process and task efficiency that I have applied to several small businesses and government agencies. All this experience helped me develop "The Growth Breakthrough System" that helps my clients attain upwards of triple growth in revenue.
Second big change
It's probably best that I share with you a defining moment, and a resulting compelling story, that brought me to where I am today. I help businesses that have a clear positive impact on society and the environment and passion for what they do, so they can attain and retain more customers. All of this done with passion, empathy, and humour.
Back in 2012, I had been working in Corporate Consumer Goods and Consulting Firms for more than seven years. I enjoyed the work I got to do every day. There was only one problem: My heart wasn't in it.
I started to identify with entrepreneurs more and more. I wanted to work with clients that I wanted to work with, and truly commit to seeing them succeed. Plus, I've always truly believed that we are here to make a positive change in the world with our talents, and I wanted to be doing just that!
I always knew I wanted to be a consultant, but I thought it would be later in life until one morning I woke up and asked myself, "Why not now?" I knew what I wanted to do, and I already had entrepreneurs that were asking me for business advice and I loved teaching. So that day I decided put the "9 to 5" cubicle life behind me. I ditched my two-hour daily commute, and I started my own business!
Products are my zone of genius! and I realized that all my knowledge from my business studies and my corporate life were applicable to small business! I created my signature "P.O.N.D" system and was excited to discover that if applied correctly, the steps of this system represent growth for any product-based business.
What makes you different from other "Business Coaches"?
I have the only system and programs specialized for product-based businesses and centered on
business strategic planning. Period.
I'm committed to my client's success and I only work with businesses that align with my vision: helping the world get easier access to better, and cleaner products.
We co-create your business model and a strategy with executable goals and simple actions steps. I help you create plans that work for YOU: Your Vision, Your Purpose, Your Business, Your Personality. 
What makes me a Product Strategy and Retail expert?
I have worked at some of the biggest corporations in consumer products and retail, and I have been a consultant for non-profits and entrepreneurs. I have helped more than 50 brands develop strategies to reach their goals and attract their ideal customers. I have worked with every retailer in Canada and with any type of product you can think of: food, pet care, wine, soap, personal care, and fashion. I know retail industry secrets, plus theories from engineering and my masters in strategy, to develop business plans that work -- the same kind of plan that tripled my own revenues. My purpose is to make a positive impact with my work, and I want to get involved and feel connected to my clients, so I only consult with companies that connect with that "why." My P.O.N.D. system includes everything you need to take your business from hobby to full-time income without working 12 hour days.
What exactly is the "P.O.N.D System" and what does it include?
The "P.O.N.D System" is designed to grow your business by attracting the right clients.  It includes business foundations, strategies for growth and to find more clients; and we also work on your mindset to help you own your greatness and expertise.
I take "Business School" principles and help you create customized strategies that make sense and work for your business.
What results can I expect?
My system helps you:
Take your product or store to bigger audiences aka. increase your sales.
Get organized and set long and short term goals so you can save time, money and resources while making serious cash.
Become a sales and negotiation master.
Getting access to a sounding board to bounce ideas off each other.
Please check out the Testimonials page to learn more about more typical results.
Who are your programs for?
My clients are small and medium business owners that have tangible consumer product-based businesses: they make products or own stores.
They offer unique and innovative products  that they truly love and believe in.
They have a clear idea for a business, and are getting ready to launch or their business is already making money and you want to take your growth to the next level.
They started their business to make a positive impact in society and/or the environment, but they also want to make serious money!
For what type of professionals are your programs NOT going to work?
Please know that I'm selective in who I work with. I'll kindly let somebody know if they're the right fit for my programs.
The "P.O.N.D System" might not be a fit for you yet if:
You think that accountability and mindset are your coach or consultant's responsibility instead of yours. The plans that I help you build are like the recipe for an amazing cake. I develop them with you and I'm committed to your success, I assist you in the process but cannot execute for you or make you do anything.
You are still working on finding your path and passion or are struggling with high negativity, stuck in "complain mode" and have a hard time looking for the bright side or getting motivated to do the work. In this case, a Career or Life Coach will serve you best.
You don't any have money coming in - at least not right away, because of how difficult it is to focus when you're in survival mode. It's OK, we've all been there! But right now your focus should be on immediate cash flow and I would recommend finding an alternative source of income first.
You're in research mode, and not fully committed to your business yet.
You want to do it on your own, and you are not sure if you want to invest money on support for your business.
If we work together, great! If not, you're still welcome to take advantage of my newsletter and my webinars.
In the future, when you're ready to take action, feel free to reach out!
In the meantime, if I can help with anything or have any questions, please email me at me@leylarazeghi.com
How quickly can I expect results?
You can expect immediate results when it comes to clarity, getting organized and saving time, money and resources. You will get a clear path to achieve your goals and get results (that include higher sales!) after a few weeks of working with me.
How can I guarantee myself that I will get better organized & start getting more sales in record time?
Be willing to start where you're at and start taking action right away. Be totally committed to your success, motivated and keep yourself accountable.
Expect to get clarity and clear steps to take for your business growth; all the systems, knowledge and support that you've been looking for but haven't found until now. That's what you're investing in a program that gives you results, and not just more information.